Cindy Kirk Running for Re-election as County Council Representative for District 2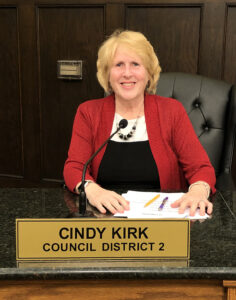 Cindy Kirk was elected to the Allegheny County Council in November 2015 to represent District 2, which encompasses Bell Acres, Bradford Woods, Crescent, Edgeworth, Franklin Park, Leet, Leetsdale, Marshall, McCandless, Ohio, Pine, Richland, Sewickley, Sewickley Heights and Sewickley Hills.
Holding a master's degree in Nursing Administration from the University of Pittsburgh, Cindy is a nurse administrator at UPMC, Oakland Campus. Throughout her nursing career, Cindy worked in a number of nursing specialties. She began her career on a transplant unit and as a dialysis nurse. She later worked as a nurse researcher and in nursing informatics.
Cindy has been a lifelong community volunteer and activist. Cindy has served as a school PTA volunteer and president, a Boy Scouts of America volunteer and a Girl Scouts of America leader, Jubilee Kitchen volunteer, and president of the SWPA U. S. Air Force Academy Parents Association. She also served on the Northland Library Foundation Board. As a grass-roots political activist, Cindy was elected and continues to serve on her party's local and State Committee.
As a 31 year resident of the district, Cindy lives in McCandless with her husband of 36 years, Bill. They are parents of two adult children, Chip and Kim. Chip is an active duty US Air Force pilot and graduate of the US Air Force Academy. Kim, after graduating from the University of Notre Dame, is pursuing a career in fashion in Manhattan.